Sigachi Laboratories Limited Unlisted Shares
(i) Sigachi was established in 1989 as one of the largest manufacturers of microcrystalline cellulose & Cellulose powder with a team of technocrats, well-qualified and highly experienced in the fields of pharmaceutical excipients, cellulose-based filter coatings, plasticizers and chlorinated synthetic resins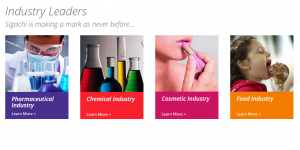 (ii) Starting at 720t / annum, the company has significantly increased its capacity to over 10,000t / annum and delivers these products worldwide through a robust distribution network and direct warehouses in the United States. Multi-locational facilities with skilled and experienced staff support its reliable supply chain. Sigachi has been witnessing a period of continued expansion across every product range of its business.
(iii) Sigachi received four Prestigious National / State Awards for Outstanding Performance and Quality. They also received the 2011 MSME Innovation Award. This award is set up and supported by the National Science and Technology Development Board (NETEBD), Science and Technology Department.
(iv) Sigachi is a Manufacturer, Exporter and Supplier of Micro Crystalline Cellulose, Filter Aid Cellulose, Hydrochloric Acid, Chlorinated Paraffin Oil etc. They manufactures high-quality cellulose-based excipients predominantly for the pharmaceutical, supplement and food industries it has served for over two decades.
(v) They have three manufacturing sites across India located in two states. Multiple regulatory certifications certify these facilities. Their product is available with Drug Master File, their units are certified according to EXCiPACT GMP, HACCP and ISO 9001:2015, complying with EDQM and USFDA standards. Their range includes microcrystalline cellulose, MCC colloidal grades, Croscarmellose sodium, and various other excipients co-processed.
(vi) Sigachi  intensive export activities to more than 27 countries around the world, catering to all kinds of pharmaceutical and food industries. Products include: Cellulose microcrystalline, grades of MCC DC, Colloidal MCC, and Sodium Croscarmellose.
Sigachi Laboratories Limited Unlisted Shares Details:
| | |
| --- | --- |
| Total Available Shares: | NA |
| Face Value: | ₹ 10 Per Equity Share |
| ISIN: | INE368H01018 |
| Lot Size: | 50 Shares |
| Current Unlisted Share Price: | ₹ Best in Industry Per Equity Share |
Financials of Sigachi Laboratories Limited Unlisted Shares:
(figures in lakhs)
| | | | | | | | | | | |
| --- | --- | --- | --- | --- | --- | --- | --- | --- | --- | --- |
| Year | Revenue | EBITDA | OPM | PAT | NPM | Shares | F.V. | EPS | NW | RONW |
| 2016 | 161.26 | 118.95 | 74% | 79.09 | 49% | 73.11 | 10 | 1.08 | 1045.09 | 8% |
| 2017 | 188.42 | 136.65 | 73% | 100.01 | 53% | 73.11 | 10 | 1.37 | 1145.11 | 9% |
| 2018 | 209.10 | 146.49 | 70% | 111.11 | 53% | 73.11 | 10 | 1.52 | 1980.79 | 6% |
| 2019 | 197.78 | 142.12 | 72% | 104.51 | 53% | 73.11 | 10 | 1.43 | 2139.55 | 5% |
| CAGR | 7% | 6% | | 10% | | | | | | |
| | | | | | | | | | |
| --- | --- | --- | --- | --- | --- | --- | --- | --- | --- |
| Year | LT-debt | ST- Debt | NW | Debt/NW | Current Ratio | Debtor Days | CFO | Capital Exp. | FCF |
| 2016 | 0 | 0 | 1045 | 0 | 100.97 | 47 | -3.36 | 15.99 | -19.35 |
| 2017 | 0 | 0 | 1145 | 0 | 44.02 | 24 | 26.24 | 13.79 | 12.45 |
| 2018 | 0 | 0 | 1980 | 0 | 110.71 | 19 | 48.37 | 51.74 | -3.37 |
| 2019 | 0 | 0 | 2139 | 0 | 5.58 | 32 | 52.89 | 10.28 | 42.61 |
Sigachi Annual Report 2019
Sigachi Annual Report 2018
Sigachi Annual Report 2017
Discussion on Sigachi Laboratories Limited Unlisted Shares: