Cochin International Airport Limited Unlisted Shares
(i) Cochin International Airport is the first greenfield airport in the country built with public-private partnerships. Planned and constructed from scratch, the airport has been acclaimed for setting a novel idea in infrastructure development. The astonishing public participation, relentless support from NRIs and effective leadership have made CIAL, the company that built and operates the airport, an international brand.  It is also the first airport in the world fully powered by solar energy. Ever since commercial operations started on 10th June 1999 with an International flight to Dammam. CIAL has grown rapidly becoming the 4th largest International Airport in India in terms of international passenger traffic in just four years.
(ii) Mr.V.J.Kurian IAS is the founder managing director of the company and the project itself is his brainchild. With the guidance and patronage of Late Mr.K.Karunakaran, former Chief Minister of Kerala, Mr.Kurian could materialize a never before an idea of building an international airport with a public-private partnership. He was responsible for the entire project from conception to making the company a runaway success.
(iii) Stats to show CIAL Performance in FY18-19.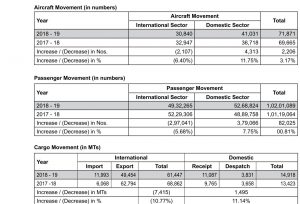 CIAL recorded a cumulative annual growth rate of nearly 20% in the initial 8 years and thereafter at 12% with annual passenger traffic touching 7.7 million in 2015-16.  The airport handled 8.9 million passengers during 2016-17 and the weekly aircraft movements stand around 1200.
For the first time in its history, the passenger volume for a single financial year (2017-18) touched 1 cr on 28th March 2018.
In FY18-19, the CIAL has once again crossed the passenger volume of 1 cr. The number of Aircraft movement has also increased to 71,871 as compared to  69,665 last year.
(iv) Kochi in Kerala is witnessing unprecedented growth. Kochi has become the business hub of Kerala and is witnessing a number of mega projects like LNG terminal, International Cargo Container Terminal, etc. Studies in the tourism sector showed an annual growth of 7% in foreign tourists and 9% in domestic tourists. Kerala Government's Vision 2025 sets its targets.
| | | |
| --- | --- | --- |
| Year | Foreign Tourists | Domestic Tourists |
| 2011-12 | 411000 | 12404000 |
| 2016-17 | 576000 | 19085000 |
| 2021-22 | 808000 | 29365000 |
Cochin International Airport Limited Unlisted Shares Details:
| | |
| --- | --- |
| Total Available Shares: | 10000 |
| Face Value: | ₹ 10 Per Equity Share |
| ISIN: | INE02KH01019 |
| Lot Size: | 100 Shares |
| Current Unlisted Share Price: | ₹ Best in Industry Per Equity Share |
Promoters And Management:
1. Dr. T .M Thomas Issac-  Non- Executive Director 2. Sr. C V Jacob - Non- Executive Director 3. Sri A K Ramani- Member - Independent Director 4. Sri V. J Kurian-Member
Company Business:
Cochin International Airport has five subsidiaries. Let us see the purpose of forming these and what business they are doing apart from maintaining and running an airport which is done through Cochin International Airport Limited. 1. Cochin International Aviation Services Limited: It does the work of maintenance of Aircraft, Repair and Overhaul Services and it is also engaged in Aviation training.  CISL currently taking Line Maintenance Services for the international flights running from CIAL. 2. Air Kerala International Services Limited: The primary objective of forming this subsidiary is to make international low-cost airlines for the Keralites who are living in the Middle-East. 3.CIAL Infrastructure Limited: It is formed to exploit the opportunities in Power and Infrastructure sectors. CIL has already commissioned 29.14  MW solar power station at Cochin International Airport and with the growing demand at the airport, the CIL has already augmented the capacity from 29.14 MWp to 40 MWp. 4. CIAL Duty-Free and Retail Service Limited It is a wholly-owned public limited company of CIAL. The company is formed in 01.03.2016 to tap the business of Duty-free and Travel Retail business. 5. Kerala Waterways and Infrastructures Limited The company is formed on 03.10.2017 jointly by Govt. of Kerala and CIAL. It is formed with the objective of making an inland waterway between Kovalam to Bakel. The project will be developed in 3 phases, the first phase will be completed in May 2020 while the second phase will be completed by 2022 and the third phase will be completed by 2025. It will enable the movement of cargo through the waterway.
Shareholding Pattern:
Top 10 Shareholders in the Company as on 31.03.2018
| | | |
| --- | --- | --- |
| Shareholder | No.of Shares | % of Shareholders |
| Synthite Industries Limited | 2,49,84,020 | 6.53% |
| BPCL | 1,31,25,000 | 3.43% |
| Housing and Urban Development Corporation | 1,25,68,829 | 3.83% |
| Air India Limited | 1,25,00,000 | 3.27% |
| SBI | 1,25,00,000 | 3.27% |
| Federal Bank Limited | 75,00,000 | 1.960% |
| Bavaguthu Raghuram Shetty | 76,25,698 | 1.993% |
| Khadeeja Zeenath | 75,00,000 | 1.960% |
| Shabira Yusuffali | 55,30,284 | 1.45% |
| Amina Mohammed Ali | 50,27,532 | 1.31% |
Financials of Cochin International Airport Limited Unlisted Shares:
(i) Financial Performance of CIAL
| | | | |
| --- | --- | --- | --- |
| Particulars( in cr) | 2018-19 | 2017-18 | 2016-17 |
| Total Income | 650 | 553 | 487 |
| EBITDA | 398 | 387 | 298 |
| EBITDA Margins | 61% | 70% | 61% |
| PAT | 166 | 155 | 179 |
| PAT Margins | 26% | 28% | 37% |
| Equity | 382.57 | 382.57 | 382.57 |
| EPS | 4.34 | 4.05 | 4.68 |
| Net-worth | 1380 | 1331 | 1287 |
| RONW | 12% | 12% | 14% |
(ii) Financial Performance of Subsidiaries of CIAL:
a) Cochin International Aviation Services Limited:
| | | | |
| --- | --- | --- | --- |
| Particulars(in Lakhs) | 2018-19 | 2017-18 | 2016-17 |
| Total Income | 1563 | 1102.12 | 893.79 |
| EBITDA | 673 | 404 | 326 |
| EBITDA Margins | 43% | 37% | 36% |
| PAT | 286.33 | 16.93 | -97.66 |
| PAT Margins | 18% | 2% | -11% |
| Equity | 7531.94 | 7531.94 | 7531.94 |
| EPS | 0.38 | 0.02 | -0.130 |
| Net-Worth | -5052 | -4766 | -4749 |
b) Air Kerala International Services
| | | | |
| --- | --- | --- | --- |
| Particulars( in '000) | 2018-19 | 2017-18 | 2016-17 |
| Total Income | 74.3 | 70.87 | 73.97 |
| Expense | 31.9 | 30.25 | 57.45 |
| PAT | 31.38 | 30.16 | 11.42 |
| Equity | 10641.2 | 10641.2 | 10641.2 |
| EPS | 0.029 | 0.028 | 0.011 |
| Net-Worth | -4371 | -4403 | -4433 |
c) CIAL Infrastructure Limited
| | | | |
| --- | --- | --- | --- |
| Particulars( in lakhs) | 2018-19 | 2017-18 | 2016-17 |
| Total Income | 2650 | 2280 | 1965 |
| EBITDA | 2120 | 1932 | 1604 |
| EBITDA Margins | 80% | 85% | 82% |
| PAT | 936 | 1067 | 984 |
| PAT Margins | 35% | 47% | 50% |
| Equity | 15533.46 | 15533.46 | 15533.46 |
| EPS | 0.60 | 0.69 | 0.63 |
| Net-worth | 19482 | 18546 | 17479 |
d) CIAL Duty-Free and Retail Service Limited
| | | | |
| --- | --- | --- | --- |
| Particulars( in cr) | 2018-19 | 2017-18 | 2016-17 |
| Total Income | 240 | 237 | 184 |
| EBITDA | 8 | 4.4 | 4.5 |
| EBITDA Margins | 3% | 2% | 2% |
| PAT | 5.7 | 3.2 | 2.5 |
| PAT Margins | 2% | 1% | 1% |
| Equity | 0.07 | 0.07 | 0.07 |
| EPS | 81.43 | 45.71 | 35.70 |
| Net-worth | 11.57 | 5.77 | 2.57 |
e) Kerala Waterway
| | | |
| --- | --- | --- |
| Particulars ( in lakh) | 2018-19 | 2017-18 |
| Total Income | 1.66 | 0 |
| PAT | -13.55 | -13.71 |
(iii) Consolidated Financial Performance
| | | | |
| --- | --- | --- | --- |
| Financial Results( in cr) | 2018-19 | 2017-18 | 2016-17 |
| Total Income | 807 | 701 | 592 |
| EBITDA | 434 | 440 | 320 |
| PAT | 188 | 172 | 192 |
| EBITDA Margin | 54% | 59% | 54% |
| PAT Margin | 23% | 25% | 33% |
| Debt/Net Worth | 0.395 | 0.33 | 0.28 |
| Equity | 382.570 | 382.570 | 382.570 |
| EPS | 4.91 | 4.5 | 5.04 |
CIAL Annual Report 2018-19
CIAL Annual Report 2017-18
CIAL Annual Report 2016-17
Discussion on Cochin International Airport Limited Unlisted Shares: