Mobile payments is a hot business in the Indian start-up circuit. After Paytm's DRHP, another player from the industry- Mobikwik- is planning to hit Dalal Street with its primary issue.
Started in 2009, Mobikwik has now grown to a financial firm providing small loans to its customers from just a mobile wallet payments firm. The company has about 2 million merchants and a user base of 60 million customers, using its services.
The real-life couple of Bipin Preet Singh and Upasana Taku founded the company, which over the years extended its services to mobile apps and partnered with various e-commerce sites as their payment options.
The company employs over 325 people, operating in three segments including consumer payments, fintech, and payments gateway. They also introduced the feature of sending and receiving money via a mobile app
MobiKwik provides financial services including loan, accident insurance, life insurance, fire insurance, IMPS money transfer, credit card bill payment, mutual funds, and DTH recharge.
Two years back, in 2019, the home-grown fintech player began offering loans, insurance, and investment advice.
Funding of the company
In 2013, after founder Singh's initial $250k seed investment, MobiKwik raised $5 million in Series A funding from an unnamed US-based VC firm. In 2015 the company raised about $31 million from Chinese investment firm Tree Line Asia and America's Sequoia Capital, tech giant Cisco Systems and financial services player American Express.
In May 2016, the company announced another round of fundraising, in which it garnered about $50 million from Japanese Internet company GMO Internet and Taiwan's MediaTek.  Sequoia Capital and Treeline Asia also joined the fundraising in this round as well.
According to a report from Medianama, the company became a unicorn when it raised $150 million from an undisclosed investor in June 2017. Just a couple of months later, Bajaj Finance picked up around 11% stake in the company for Rs 225 crore.
In July 2019, NDTV Limited & Trifecta Capital invested about $1.3 million in the company. Renowned media company Hindustan Media Ventures invested about $9.5 million on Mobikwik in two tranches at the end of 2021.
The latest investment in Mobikwik came from Abu Dhabi Investment Authority, which poured in $20 million in June 2020.
Partnerships
Mobikwik partnered with Uber India in July 2015, which enabled Uber and its drivers to utilize MobiKwik to process debit and credit card payments.
On November 8, 2017, IDFC Bank entered into a strategic partnership with digital payments company to launch a co-branded virtual Visa prepaid card for the customers.
In June 2019, MobiKwik announced a partnership with DT One, a global B2B network for mobile top-ups, recharge, rewards, and credit services.
BookMyShow, Cafe Coffee Day, Sagar Ratna, Pizza Hut, TastyKhana, JustEat, PVR, eBay, Jabong, Snapdeal, Shopclues, HomeShop18, Naaptol, Pepperfry, Fashionara, FashionAndYou, MakeMyTrip, Ferns N Petals, are among the brands that are associated with MobiKwik.
On 25 February 2021, an Indian security researcher named Rajshekhar Rajaharia claimed that the KYC details of millions of MobiKwik users have been leaked from the company's server, by a hacker group called Jordandaven, and put up for sale on the dark web.
However, the company denied the claim and said it will take legal action against the researcher. Later, TechCrunch reported that the company is hiring a third party to conduct a forensic data security audit.
In the mobile payments and digital payment service business, MobiKwik is facing stiff competition from various larger players like Paytm, Google Pay (earlier Tez), and PhonePe.
On the wallet front, it rubs shoulders with Paytm, which has over 60 million wallet users. However, it has a strong focus on the wallet, while Alipay-backed Paytm is following a horizontal approach and has forayed into an all-in-one B2C marketplace for the users.
Financial metrics
In the Financial year 2018-19, MobiKwik's revenue stood at Rs 184.6 crore, while it stood at Rs 69.6 crore in the previous fiscal year 2017-18.
In FY 2019-20, the net revenue of MobiKwik jumped 134% to Rs. 379 crore. The consumer payments accounted for 63% of the net revenue, Fintech for 25%, and Payment Gateway for 12% of total net revenue during the year.
MobiKwik also has a merchant-facing Payment Gateway Business, though is a wholly-owned subsidiary Zaakpay, which registered net revenue of Rs 190 crore in the financial year 2019-20. The company clocked a revenue of Rs 101 crore in the previous fiscal year.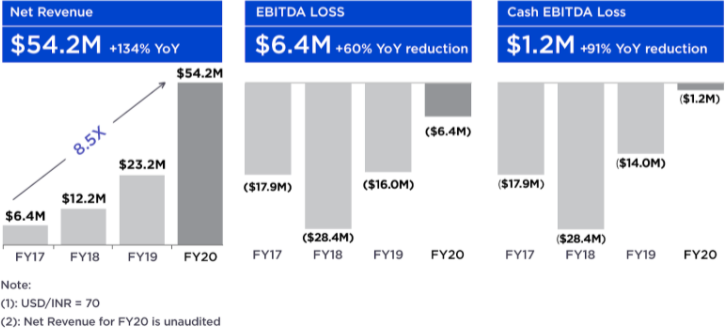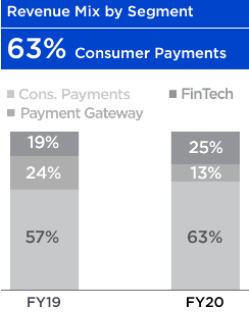 .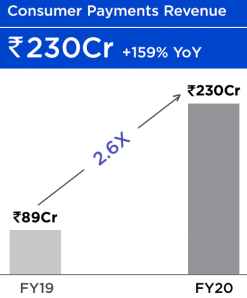 IPO Plans
According to Upasana Taku, co-founder of Mobikwik, the company is eyeing to launch its IPO in 2021. However, the process may get delayed.
The company will change its holding to public limited from a private limited firm.  Also, the company will rename itself as 'One Mobikwik Systems Limited', said the reports.
Mobikwik announced that it would be issuing and allotting 156,17,940 equity shares, which will be live for 67 equity shareholders as a bonus, to dilute the equity.
The co-founders of the company, Bipin Preet Singh and Upasana Taku are deemed to be the largest beneficiaries of this bonus issue. They have been allotted 87,30,930 and 61,80,900 fully paid equity shares respectively
Mobikwik will be hitting with an IPO of Rs 1,900 crore in the coming months. The company will issue fresh shares worth Rs 1,500 crore and existing shareholders will offload shares worth Rs 400 crore.
Source of Images: https://blog.mobikwik.com/mobikwik-annual-report-fy2020/