Bagrrys India Limited Unlisted Shares
(i) Bagrrys India Limited (known as Bagrry's) is an Indian multinational FMCG food-manufacturing company which manufactures the high-fiber breakfast cereals and health foods, headquartered in New Delhi, India. The company has two food brands in its portfolio 'Bagrry's' and 'Lawrence Mills'.
They are one of the leading brands of health foods and breakfast cereals in the Indian subcontinent. With a tagline of 'Let's put health first,' they make products that are healthy, honest, innovative and of exceptional quality. Bagrry's has been a pioneer in India for products such as muesli, oats, bran and the range now includes many more healthy foods. For over 20 years they've aimed at setting new standards in innovation, responsible nutrition, and quality manufacturing. Over the years, they have created products that have helped the consumers live a fit and healthy lifestyle.
(ii) The inspiration behind Bagrry's came from the writings of none other than Mahatma Gandhi. The founder, Mr. Shyam Bagri, in his early days, came across a passage from Gandhi Ji's book 'India of My Dreams' that elucidated the nutritive value of 'choker' or wheat bran which gets lost in processed foods. From there on he embarked on his journey to create the Bagrry's range of products that are innovative, natural and honestly healthy.
(iii) USP of the Company
It all starts from sourcing only the finest ingredients from across the world. At Bagrry's, quality is an obsession and they buy only the best ingredients to make it into packs. For example, they carefully select oats from the British countryside and all almonds come from the sun-kissed fields of California.
They use all-natural ingredients and ensure that the nutrition in the products is derived from a natural source, be it whole grains such as oats, natural honey, real freeze-dried fruit pieces or fiber-packed bran. Even the chocolate they use in the products, is free from any artificial flavors and the antioxidants that carefully preserve our products are all-natural as well.
Products of the Bagrrys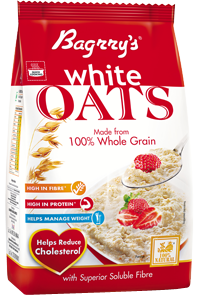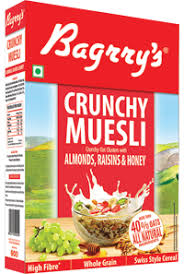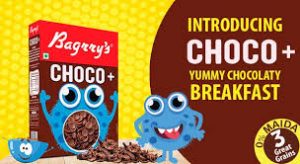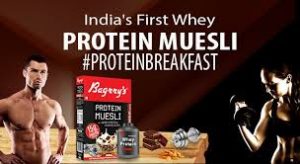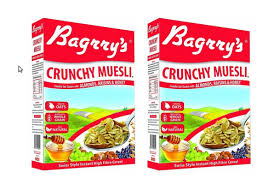 Converting into Private Limited from Public Limited
The company's board has decided to change its name from "BAGRRYS INDIA  LIMITED" from "BAGRRYS INDIA PRIVATE LIMITED". To convert to Private limited, they have to limit the number of shareholders in the company. For that, the Scheme of Arrangement duly approved by Hon'ble National Company Law Tribunal, Chandigarh Bench, Chandigarh vide its Order dated 3rd August 2017 was implemented by the company. Sailent feature of the scheme.
a) " The Transferee Company has some outside/non-promoter shareholders. Since the Transferee Company is a un-listed company, there is no mechanism/platform available to these Shareholders to sell/dispose-off these shares, if they so wish."
b) " In order to provide an exit opportunity to all the outside/non-promoter shareholders, it is proposed to re-organize the share capital of the Transferee Company, on a voluntary basis, by canceling the Equity Shares held by all the outside/non-promoter shareholders; and to issue 8% non-cumulative compulsorily redeemable Preference Shares of `10 each at a premium of `114 (one hundred fourteen) per share".
c) The proposed reorganization will provide a permanent liquidity option for illiquid shares of the Company. It will help the non-promoter shareholders in realizing the true potential of their investments in the Transferee Company which can be gainfully deployed elsewhere.
So, we can conclude that the company is doing buyback of shares from the public and giving Rs.114 per share.
In 2018-19, the Company has redeemed 36,954 (Thirty-Six Thousand Nine Hundred Fifty-Four) 8% Non-Cumulative Compulsorily Redeemable Preference Shares of Rs. 10 (Rupees Ten) each at a premium of Rs. 114 (Rupees One Hundred Fourteen) per Share, availing call option available to the Company.
Bagrrys India Limited Unlisted Shares Details:
| | |
| --- | --- |
| Total Available Shares: | 100 |
| Face Value: | ₹ 10 Per Equity Share |
| ISIN: | INE229F01024 |
| Lot Size: | 50 Shares |
| Current Unlisted Share Price: | ₹ Best in Industry Per Equity Share |
Financials of Bagrrys India Limited Unlisted Shares:
( Fig. in Crs )
| | | | | | | | | | |
| --- | --- | --- | --- | --- | --- | --- | --- | --- | --- |
| Year | Revenue | EBITDA | OPM | PAT | NPM |  Shares | EPS | Net-worth | RONW |
| 2018 | 117.69 | 12.44 | 10.6% | 7.15 | 6.1% | 0.080656 | 88.65 | 14.7482 | 48% |
| 2019 | 155.52 | 13.09 | 8.4% | 8.41 | 5.4% | 0.080656 | 104.27 | 23.166 | 36% |
2018-19 Financial and Operational Analysis
(i) During the year under report, the revenue from operations has increased by 31.29 % from Rs. 117.69 Cr in the previous year to Rs. 154.57 Cr.
(ii)
The Company has earned a Profit after Tax amounting to Rs. 8.41 Cr, higher by 17.69 % over the previous year's profit of Rs. 7.15 Cr.
(iii)
The company has only 2.12 Cr of Debt as of 31.03.2019. So, it is almost debt-free as compared to Net-Worth.
(iv)
The Company last year had joined hands with a reputed Multi-National Company for sale of its certain category of products. It has helped the Company to substantially increase its customer base by reaching out to the consumers in smaller two, three and four-tier cities all over India.
(v)
The Company in 2018-19 has started exporting to Seychelles in addition to the export to other countries, where the Company was already exporting its products.
(vi)
The Company has opened a new Health Café in Delhi / NCR. Apart from selling tea, coffee, outsourced sandwiches, etc., the branded packaged products are also showcased and sold therein.
Bagrrys Annual Report 2018-19
Discussion on Bagrrys India Limited Unlisted Shares: